Back
Premium subscription
Our best ever annual subscription deal!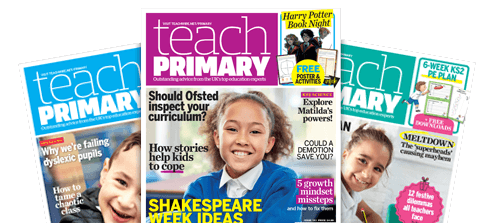 Introducing
---
At Teach Primary Magazine we know teachers always need a ready supply of stationary, stickers, and other classroom gifts to help reward and encourage their students. We have designed the Teacher Reward Kit to give teachers a full box of goodies to keep students feeling motivated. From reward certificates to stickers and various fun gifts for pupils, we aim to help you keep your pupils smiling!
Worth over £65, The Teacher Reward Kit by The Teachstore is absolutely FREE* when you subscribe to Teach Primary Premium.
Pay only £29.99 every 4 issues*
Included in every kit:
225 stickers
30 'Well Done' certificates
30 double-sided reading reward bookmarks (with rulers!)
9 classroom gifts for students
1 STABILO EASYoriginal pen
1 STABILO purple SENSOR fineliner
1 mystery Nosy Crow book
3 sets of coloured pencils
50 funky rubbers
6 pencil toppers
4 felt tip pens
1 Consortium glue stick
1 TTS handwriting pen
8 print issues of Teach Primary Magazine
8 digital issues of Teach Primary Magazine
One FREE* copy of a Crafts or Lifestyle magazine of your choice
Special offers for teachers on travel and leisure with Discounts for Teachers
50% off at Plazoom
20% off at STABILO
20% off at Nosy Crow
20% off Magazines to You**
Don't miss out on these exclusive discounts to our favourite brands and subscribe to Teach Primary Premium today!
***Please note: Your discount codes will be sent to you shortly after subscribing. Please allow 5-7 working days to receive your discount code and instructions for accessing your digital subscription.
Pay only £29.99 every 4 issues*
Crafts and Lifestyle magazines available
---
Shortly after you subscribe, you will receive an email with your discount codes, a link to select your choice of Crafts or Lifestyle magazine, and instructions on how to access your digital subscription.
Pay only £29.99 every 4 issues*
The TeachStore Brand Partners
---
We have partnered with fabulous brands to ensure we can give you discounts to brands you love.
STABILO
STABILO has long been a Teach Primary Magazine favourite. Creating innovative and inspiring pens for over 160 years, we believe STABILO is an absolute classroom staple. Thanks to STABILO, you will find 1 EASYoriginal pen for handwriting (left or right-handed) and 1 SENSOR fineliner for marking students' work in your Teacher Reward Kit. On top of that, every Teach Primary Premium subscriber receives a 20% discount code to use in the STABILO Shop
Visit Website
Nosy Crow
We're delighted to continue our longstanding relationship with multi-award winning, independent children's publishing company, Nosy Crow. Each Teacher Reward Kit comes with a mystery Nosy Crow book to help entice your children to read for pleasure. You will also receive 20% off the Nosy Crow shop when you subscribe to Teach Primary Premium - anything to keep your learners passionate about books!
Visit Website
Plazoom
With 50% off Plazoom teaching resources when you subscribe, you or your school can get bundles of teaching resources to get you through the year. Plazoom teaching resources are wonderfully colourful, fun to teach, and each resource comes with the relevant teacher's notes, worksheets, and presentations. Visit Plazoom to discover their growing collection of quality teaching resources, including FREE resources and fabulous reward certificates and classroom charts!
Magazines to You
With your 20% off selected magazines and products on Magazines to You, you can treat yourself and your friends and family. Magazines to You has everything from card making kits to gardening tools, to knitted toys and downloadable teaching resources.
Discounts for Teachers
We've partnered with Discounts For Teachers to help spread the word about their FREE discounts scheme for all education sector staff, past and present!
You can save on fashion, eating out, home appliances, holidays, TV and broadband, insurances, mobiles, motoring and much more.
Get discounts on hundreds of the biggest brands, including the likes of Jet2holidays, Sky, Clarks, EE, Hotpoint, Butlin's, TUI and many more.

Sign up for free today and start saving on everything from day to day essentials to holidays.
Visit Website
Consortium
Thanks to Consortium, the education supply people, you will find your own glue stick within your Teacher Reward Kit, so guard it with your life (or just label it and lock it up safely).
Visit Consortium to find lots of offers on education supplies that would be great for your classroom!
Visit Website
TTS
With thanks to TTS, each Teacher Reward Kit includes a TTS handwriting pen for you to use or gift to one of your students who needs a little extra help developing the right writing posture.
Visit Website
Terms & Conditions
*Four issues only £29.99 is available when paying by Direct Debit. Pay only £29.99 every 4 issues. This is a UK Direct Debit offer. Gift is only available to UK subscribers. Existing subscribers can renew using this offer. Your subscription will begin with the next available issue. Subscriptions are for a 12-month period including all gift subscriptions. If your subscription is a gift, the gift and gift card will be sent to the donor. You can also subscribe via cheque or credit card. In the event of a gift being faulty or damaged, please contact us within 28 days of receiving the gift. This offer is subject to availability, an alternative gift may be supplied to the same or greater value. This is a limited offer and may be withdrawn at any time. Free delivery as standard. Gifts will not be posted out overseas.

**Applicable to selected products only.​